Destination Red Centre: A Comprehensive Guide to the National Parks and Off-the-Beaten-Track Destinations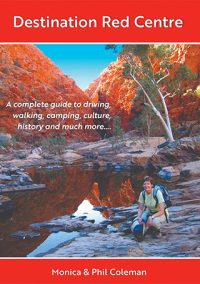 Phil and I spent most of last winter updating our e-book, Destination Red Centre. After Covid lockdowns, it was fabulous getting back to our favourite places and checking out new ones.
This e-book takes you to the well-known places like Alice Springs, Uluru and Kings Canyon as well as off-the-beaten track destinations. It isn't just a selection of the usual mainstream tourist places that everybody visits.
It includes a whole lot of places that you'd be unlikely to find on your own, including our own favourites. If there is a track worth driving, a hike worth doing, a waterhole or bush campsite worth stopping at, then it's covered.
As well as destination information, the book covers camping, the weather, 4WD driving techniques, walking in the Red Centre, staying safe, common plants, animals and birds you're likely to encounter, history, geology and the night sky. There is also comprehensive information about how to visit Aboriginal communities, what to expect, how to behave and how to obtain the permits required.
No matter if you have two weeks or two months, no matter if you have a 2WD vehicle and no off-road experience, or if you've been a member of your 4WD club for decades, Destination Red Centre shows you how to get the very most out of your trip. A lot has changed in Central Australia over the past 3-4 years so an update was well due.
COVID-19 caused many businesses to close, new ones have opened and the national parks rules have changed significantly.
New National Park Fees
As of 2023, fees have been introduced at many of the sites managed by Parks NT. This includes:
Arltunga Historical Reserve
Chambers Pillar Historical Reserve
Finke Gorge National Park
Henbury Meteorites Conservation
Iytwelepenty / Davenport Ranges
Karlu Karlu / Devils Marbles Conservation
Mac Clark (Acacia peuce) Conservation Reserve
Napwerte / Ewaninga Rock Carvings, N'dhala Gorge Nature Park
Owen Springs Reserve
Rainbow Valley Conservation Reserve
Ruby Gap Nature Park, Tjoritja / West MacDonnell National Park
Tnorala (Gosse Bluff) Conservation Reserve
Trephina Gorge Nature Park and Watarrka National Park (Kings Canyon)
The important thing to note is that these fees apply over and above any camping fees.
And if you're hiking the Larapinta Trail you'll be hit with a walking fee, a visiting the National Park fee and a camping fee! The fees cost $10 per adult per day, $5 for children and $25 for a family.
You can also buy a 2 week pass for $30 per adult, $15 for children and $75 for a family. There's also an "Open Pass" which lasts for a year – $60 for adults, $30 for children, $150 for families.
Residents of the Northern Territory are exempt from these new fees (however, if they have non NT residents on board those people do have to purchase a pass).
These passes will not be available until 3rd April 2023. And Parks NT doesn't know yet what the online link will be.
The fees at Uluru have not been changed as this national park is managed by Parks Australia, not Parks NT.
For the latest pricing and to purchase camping and hiking passes, click here for the Parks NT website.
Changes to Camping
Unfortunately these days there is no such thing as a free (legal) camp in a National Park!
If you've travelled here before, it is important to realise that since March 2022 ALL sites in national parks and reserves managed by Parks NT must be pre-booked online and there is a camping fee.
This includes many spots that we all used to camp at freely. There are signs everywhere warning you of this. It makes it extremely hard to travel without a fixed itinerary as you are expected to book but there is virtually no internet access. In situations like this, you'll be glad to have the Kimberley Kampers Starlink portable satellite internet kit on-board!
If you can't access the internet, you can call the Parks and Wildlife customer service team on 1300 281 121. The team is available 7 days a week between 8.30am and 4pm, Australian Central Standard Time.
We tried this on one occasion and hung up after being put on hold for 40 minutes! In 2022 Parks NT was warning people who had not booked and paid for camping online. In 2023 they are going to fine people who don't. So best not get caught out!
The most basic of the National Parks campgrounds have a low level of maintenance and may include toilets, picnic tables, BBQs and tap water. They cost $6.00 per adult per night.
The next level up are well maintained and may provide toilets, showers (occasionally), rubbish bins (occasionally), picnic tables, cooking facilities, BBQs and tap water. They cost $10.00 per adult per night.
Some campsites are managed commercially and their facilities and fees vary. Most cost $10.00 but several in the West MacDonnell National Park (such as Ormiston Gorge) cost more. If you are going overnight hiking on the Larapinta Trail you'll need to pay a fee of $25.00 per person per night as well as the $6.00 camping fee.
Changes to fuel in the outback
Good news here as many of the remote Aboriginal communities are installing automatic 24 hour fuel pumps. This means you don't have to wait around while they are closed for lunch and makes it nearly impossible for people to steal fuel.
New walking chapter
Those of you who know us will know that we love hiking. There have always been walks described in the guide. However, last winter we were able to hike quite a few new sections of the Larapinta Trail that can be done as day trips. Quite a lot of the walks described in this book are well constructed and well-used.
They are short (up to an hour or so) and usually easy. These walks do not require any special skills or gear. Just wear a hat and sunscreen and carry some drinking water. And, if you're a good hiker, please don't write off the tourist walks as they are all stunning! We've also described some longer, more adventurous walks that you can try.
The ones classed moderate will usually have other walkers. On moderate and challenging walks, carry some food, spare sunscreen, a map of the walk (sometimes you can take a photo of the information board and this will suffice) and a basic first aid kit.
In hot weather, walk in the cooler parts of the day, generally before 11.00am. Avoid the hottest part of the day which is usually from about 2.00pm to 5.00pm, and later in the warmer months. Always aim to finish at least an hour before dark so you have some spare time for contingencies.
Alice Springs
Travelling in Alice Springs has become variable for comfortable camping and we recommend that you check here and here for the latest information prior to planning your trip.
Don't let that deter you from a trip to the Red Centre. It is only cities like Alice Springs and Tennant Creek that have these issues. The rest of the region is safe. When in Alice, if you must stay in a caravan park, we currently recommend staying in one that has high fences and security guards.
Or do what we do and stay in a caravan park 15km out of town. When we go into town for shopping (or to buy some wine!) one of us stays in the car with the doors locked. We choose restaurants that are not in the CBD area and have car parking in view of where we will be dining. Hopefully this is only a temporary situation.