March-April 2022 Update from KKHQ
First of all, we'd like to thank all our customers and followers for your support during these unusual times  – it is very important to us. We are more motivated than ever to create the very best off-road caravans and campers for you.
Record Rain
Our factory has been at the epicentre of the recent floods in New South Wales, Australia and we were extremely fortunate to survive unscathed.
The good news is that it sits on a high point approx. 2km's from the town centre and has escaped the rising floods that lasted almost a week at the beginning of the month and then again this week.  The bad news is that several of our staff were directly impacted by the floods and have suffered total loss of contents and, in one case, the total loss of their home.
We are grateful that everyone is safe and are pleased to say all staff have returned to work, albeit working around family commitments.
Thanks to their commitment and passion, the factory only lost around 8 days of production, although we have lost several parts in transit at the courier's depot in Lismore.
Rosehill Caravan and Camping Show
Want to experience your next Kimberley Karavan or Kruiser before buying? Head down to the NSW Caravan Camping Holiday Supershow at Rosehill this month.
Peter and Catherine from our southwest Sydney dealership CamperACT will be there with a range of products, answering questions and sharing their extensive knowledge of caravanning and Kimberley products.
A friendly warning, though: once you step into a Kimberley, nothing else will compare.
The NSW Caravan Camping Holiday Supershow is on at Rosehill Gardens from April 19-24. You can buy tickets here.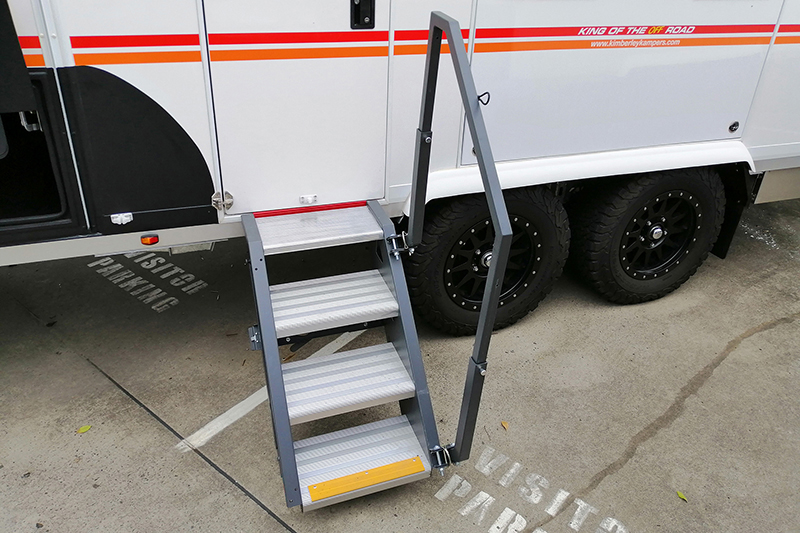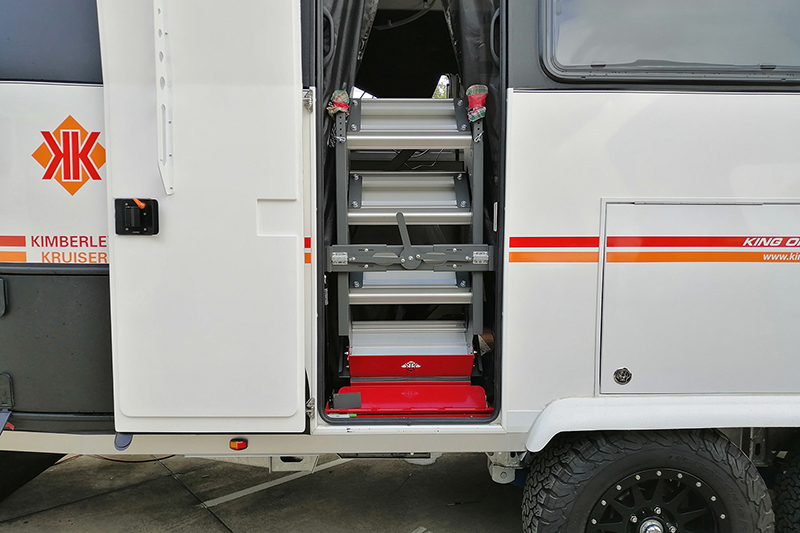 New solid steps with handrail for Kruisers
As we get older, it's not always possible to do things we used to with such grace and ease we did in our younger years.
That's why we've introduced a solid step option for Kruiser off-road caravans.  These entry steps give you peace of mind with the stability and safety you get from large treads and solid feet on the ground.
These steps have been custom-engineered to fit in the Kruiser doorway for their internal storage position and even feature an adjustable handrail for maximum convenience. With lightweight, yet sturdy construction, these easily rotate up and travel inside Kruiser.
These are an optional upgrade and you can explore the latest Kruiser off-road caravan Pricing and Specification guides here.